Which Service is Best for You?
Integrity & Trust is the core of how we operate
We keep an open line of communication with you throughout our partnership. Our goal is to build a sound and solid relationship with you when you partner with us.
No matter where you are in your business cycle, we have options for you to choose from to help you save time & money. You need to concentrate on growth and the reason you started your business!

We want to help you succeed!
Get the simple steps for starting your business right.
Together, we'll identify and avoid the common financial and foundational mistakes new business owners make.
Click to Learn How We Can Help!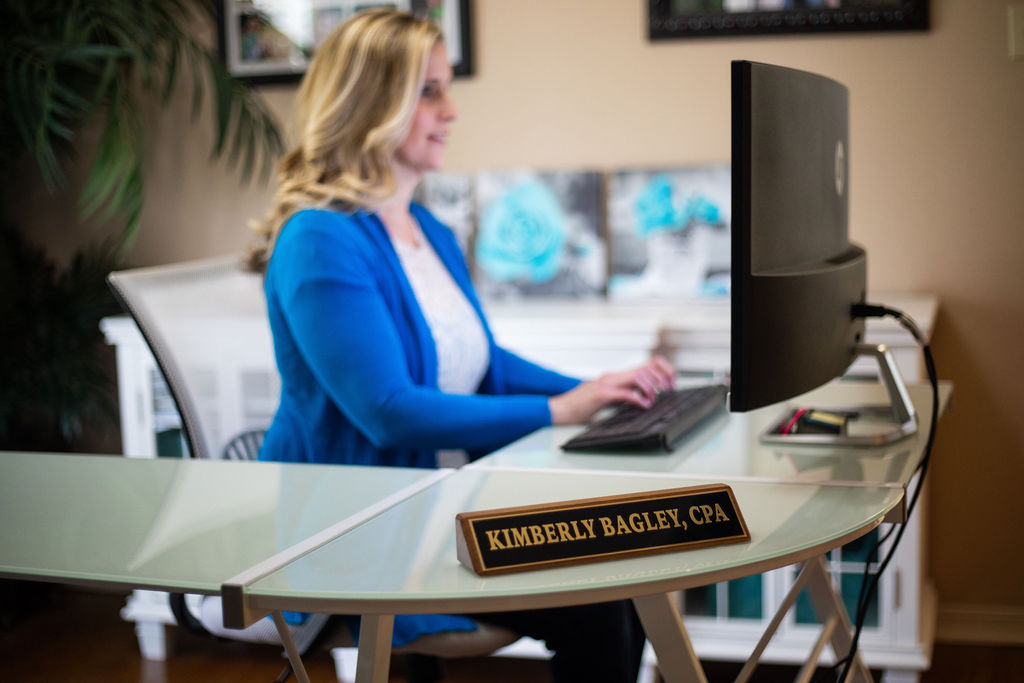 Tim
Kimberly Bagley is an amazing accountant! She understands e-commerce very well. She'll pull everything from Amazon, eBay, Walmart, and PayPal and take care of the business taxes and IRS/state filings and payroll. Allows me to focus on growing the business instead of worrying about all these tedious tasks. Kimberly is very thorough and even though she works remotely, she explains anything I'm not understanding by phone or email. Highly recommend!!!
Sarali
My books haunted me. There were errors that went back years and just kept getting carried over. Kim got to the bottom of it all. I found her to be knowledgeable, patient and kind while sorting though my books. My current accountant was very pleased with the work she did. She was fast and very generous with her time. All my questions were answered in a way I could understand without ever being condescending. I am so glad I found her and made use of her skills. If only there were more than 5 stars to give.
juliamccoy
Kim helped us when literally no one else could. After 6 years of recording my income for a growing business in Excel sheets manually, finally ready to move to Quickbooks online, we went through firm after firm that couldn't put clarity in our records and transfer it all correctly to Quickbooks. Kim did. Kim cares about her clients, and it is evident in her work. Kim was the only one we found that was willing to sit at the desk for hours, clean up manually each one of our records (and there were quite literally tens of thousands), and move us to Quickbooks Online. She now cleans and maintains our books every month, which makes it easy to generate P&Ls and for our accountant to file returns. I have hired her for my second business and will for any additional businesses I start, as well as recommend her services to all the entrepreneurs I know that need bookkeeping. She's that awesome.
DBLegacy
I run a mixed business mostly online and some service work as well. I had been doing my own books for several years but I got to the point where I was too busy to keep up with it and things were getting too complicated with payroll taxes etc. Kim went back to the beginning of the fiscal year and cleaned up my books. Over time I had gotten lazy and didn't keep up. Kim dug through statements and accounts to build it all into a useful set of books. After a time it became apparent that it would beneficial to convert from a sole prop to an llc. Kim handled all the ins and outside of that and it was stress free on my part. I have more time to do the things that make the money as opposed to trying to record how I made it. To have a proper set of books and p&ls to look at is great. And to be able to plan based on those help out alot. Kim has been invaluable to the growth of my business
John, incomemesh.com
I'm hesitant to give a good review for Kimberly because I want to keep her all to myself!! But seriously, she has been a breath of fresh air for my business. I have been self-managing (and leaving a lot of money and headache on the table), and by adding Kimberly to the team, I can finally free my mind up to put 100% of my focus on growing my business. She's been transparent, ethical, and professional in all of our discussions, and I'd recommend her to anyone who is involved in online business (but don't you DARE steal her from me!) 🙂
Point of Change Christian Counseling
I was skeptical of how Quick Books would work into my practice. We requested paid time to instruct us on Quick Books basic services. Once she sat down with me and started explaining things. It was incredible the difference it would make in just tracking business info alone. She explained it, I just recently finished my taxes and it was awesome!!!! Cut my tax prep time into a third of what it normally would have been. Thanks Kim!
OP Corpus Christi
Kim has been doing my business books and taxes for five years. She is prompt, knowledgeable and takes a big headache off my plate! My business is blessed to have her doing this for me. I highly recommend you contact Kim for your bookeeping/accounting needs. You will not be disappointed!